WRITTEN BY Kate Jane | October 20, 2023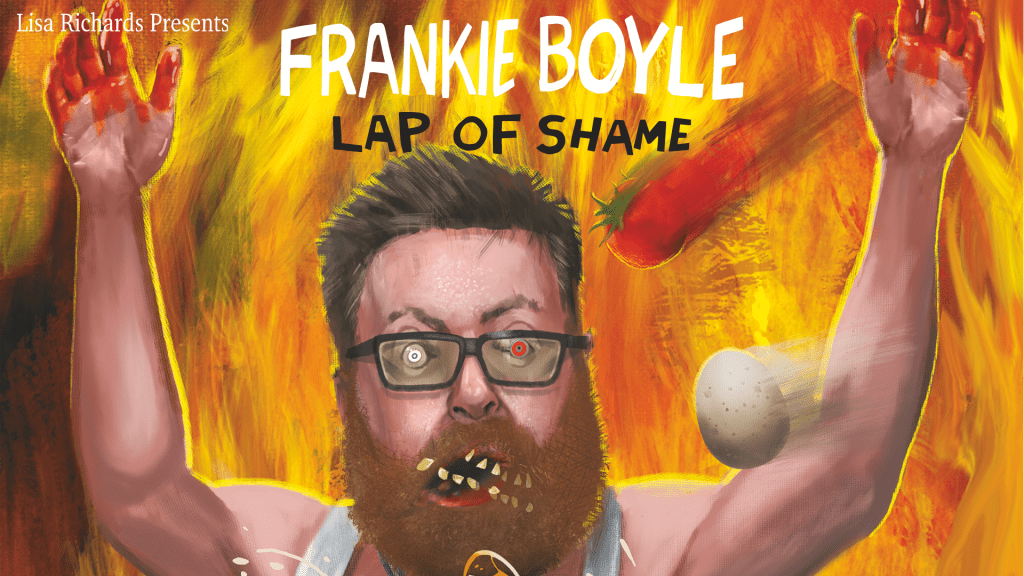 In the realm of stand-up comedy, few figures have been as unapologetically audacious and brilliantly irreverent as Frankie Boyle.
A master of controversy and a virtuoso of razor-sharp wit, Frankie Boyle has carved out a unique space for himself in the comedy landscape, leaving audiences both doubled over in laughter and taken aback by the unfiltered nature of his material.
Before his upcoming show, Frank Boyle: Lap of Shame, let's dive into the comedian's world, where we'll find a blend of incisive social commentary, unabashed commentary on the absurdities of life, and a fearless approach to addressing the most sensitive of topics.
Where it All Started
Born and raised in the lively neighbourhood of Pollokshaws, Glasgow, Frankie Boyle has his roots firmly planted in his Irish Catholic heritage, with his parents originating from County Donegal's Crolly.
His early school days saw him attend St Conval's Primary, and then Holyrood Secondary School in Glasgow. But after the school bell rang for the final time, Boyle traded textbooks for a summer stint as a library assistant, all while dipping his toes into Langside College.
However, life had other plans for Boyle, and he soon found himself swapping cityscapes for a brief spell at Aston University, which paved the way for a change of scenery and academic pursuits.
At the age of 22, after gaining a Bachelor of Arts degree in English literature at the University of Sussex, he donned his cap and gown as a university graduate, ready to take on the world.
His first steps into the working world led him to a mental health hospital, a unique experience that would later shape his perspective on life and people.
Surprisingly, a teacher-training college in Edinburgh beckoned not long after, offering placements in various schools around the country.
While undergoing placements in these schools, his burgeoning passion for stand-up comedy took centre stage, and he made his comedic debut at the University of Sussex Student Union.
His Career so Far
Kicking off his comedic journey, Boyle's inaugural stand-up venture unfolded at the lively backdrop of the University of Sussex Student Union.
However, it was his show-stealing performance at The Stand Comedy Club in Edinburgh that acted as the ultimate turning point, propelling him to fame as he clinched victory in an open-mic showcase, at the illustrious 1996 Edinburgh Fringe Festival.
During the nascent stages of his career, Boyle's humour found a fitting home on the BBC panel show Mock the Week, where he became a familiar face from June 2005, until September 17, 2009.
Following his departure from Mock the Week, Boyle's creative spirit was far from quenched. He wielded his comedic prowess to birth and shine in the Channel 4 sketch comedy extravaganza, 'Frankie Boyle's Tramadol Nights' (2010).
He also ventured into the terrain of hosting, with BBC Two's engaging chat show 'Frankie Boyle's New World Order'.
A milestone moment arrived in 2020, as he embarked on a captivating journey across his homeland with the four-part BBC Two series, 'Frankie Boyle's Tour of Scotland'.
Some of his Most Famous Jokes
If you were to sum up Boyle's comedic style, it would be a mix of the legendary Sir Billy Connolly, the thought-provoking Bill Hicks, and the whimsically brilliant Spike Milligan.
With each stage he has graced, each laugh he earned, Frankie Boyle's journey was etching its unapologetic mark on the canvas of comedy.
Let's take a look at some of most well-known ones:
"Nobody thought Mel Gibson could play a Scot, but look at him now! Alcoholic and a racist!"
"I think we're heading for a two-state solution. Israel as a solid, Palestine vaporised into a gas."
"I'm very old now and I've got a body like a dropped lasagne. Women now look at my naked body in the same fearful way that pensioners look at snow."
"It's very hard to tell if the Queen is unhappy with you. She hasn't really cracked a smile since Diana died."
Frankie Boyle: Lap of Shame
With numerous tours under his belt and a repertoire of stand-up specials to his name, Boyle's comedic odyssey is one that continues to dazzle and provoke laughter, leaving an indelible mark on the world of comedy.
Don't miss out on his latest stand-up tour, Frankie Boyle: Lap of Shame, at the Great Hall on the 10th February 2024. You can buy your tickets here.