The Good The Bad & The Rugby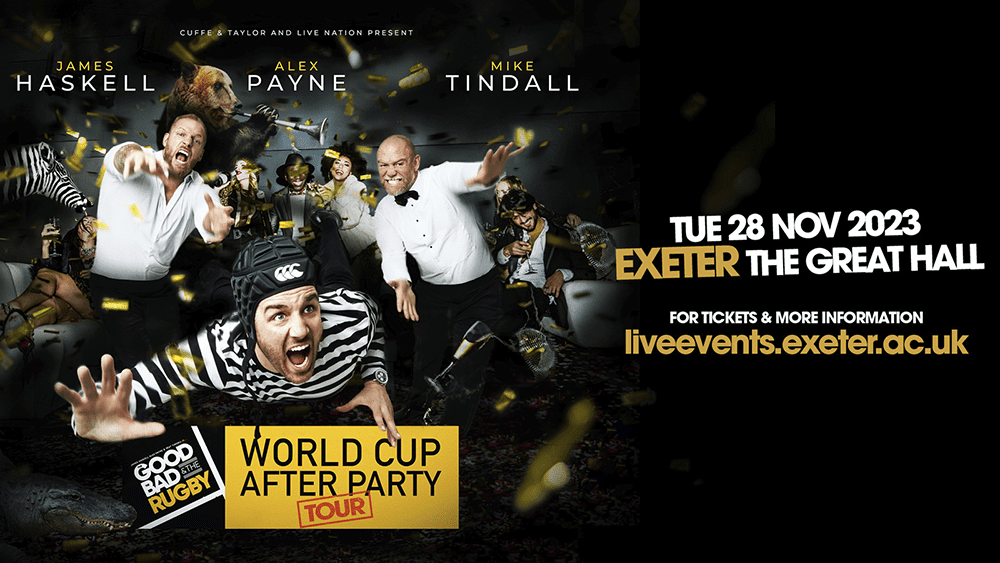 England Rugby stars James Haskell and Mike Tindall are getting back on the tour bus for a World
Cup After Party this autumn as they bring their hit podcast The Good, The Bad & The Rugby to
Exeter.
The Good, The Bad & The Rugby – The World Cup After Party will see James, Mike and their
podcast co-host former Sky Sports' rugby presenter Alex Payne, will head to the Great Hall in Exeter
on Tuesday, November 28, as part of a 17-venue tour which includes a date at the world-famous
London Palladium.
This will be the second tour from the hugely successful podcast team, following a series of sold out
shows in 2022. Since The Good, The Bad & The Rugby launched in summer 2020, it has become the
world's biggest rugby show, with more than 12million listens and 50million-plus views online.
Alongside the rugby chat, The Good, The Bad And The Rugby is popular with fans thanks to its mix
of general sporting and pop-culture talking points – meaning it is a hit with rugby fans as well as a
wider general audience.
GREAT HALL
07:30 pm
548
548 people viewed this event.
Tuesday 28 November